so it's taken me a little while to get on to writing about camp, mainly because i've been tired post-camp and also because i've been busy. not busy knitting really, just busy in general.
it actually feels a bit like i haven't been knitting at all as i'm going to have nothing to show for it as my current WIP is being given away, a well earned trade but still given away.
Knit Camp was the love child of quite a few people, mainly strong armed into existence by the lovely Jules and Amy, they got together a team of us, myself, Nandi, Kylie, and Jackie to work on putting this shindig together.
The Organisers!
L-R: Me, Jackie, Jules, Amy, Chelsea, Nandi (and Kylie is invisible!)
photo by Jules (well her camera!)
i was lucky enough to have a boss with a soft spot for knitters who was willing to donate/sponsor a few things, Kylie had the yarny-ins with the wonderful Ixchel and Skein, Jules and Amy organising machines and have years of experience with yarn in and around the industry as does Jackie who designed our amazing Knit Camp KAL pattern and Nandi was the keeper of the cash and general owner of much knowledge about things! That's boiling things down to the least effective description but hey, this is my blog, and i think we've covered before that i am lazy! so basically we all brought our special skills to the table and helped to bring the camp to life.
Heatpack Cover - made from Jackie's Knit Camp Armwarmers KAL chart
Amy's sister Chelsea, or as i now think of her 'she with the magic food making skills' was responsible for all the catering, and my god, she and her company did such a wonderful job for us. between the organised catering and the various bits and pieces all of us and the attendees came with, we had more than enough food to keep us full to the brim and overflowing with energy for all the knitting, chatting, shopping, walking, talking, learning, teaching and shivering that we did over the 3 days. Sadly (or happily) I was always too busy shovelling it into my face to remember to get photos of it at all, but trust me, it was all delicious.
Sue's amazing colourwork examples
Photo by Jules
We were lucky enough to have some wonderful attendees volunteer/offer/encouraged to give classes/tutorials on their special skill or area of expertise. This for me was definitely something that lifted knit camp to another level, it really was such a good way to see the amazing talent we have here in Australia, in our own little SnBs and hidden in people we knit with all the time. Sue's colourwork class (and the notes, oh the notes!) are something I'll keep forever. She answered so many of the little silly questions that i've always thought weren't worth asking and muddled through on my own, now i have such a handy reference to look at any time i feel a bit unsure about how to carry yarn for colourwork or where to put that slipped stitch to stop a colour jog etc. On the last afternoon Sue also gave a bit of a tutorial/talk on what to expect or prepare for when starting to write and publish patterns, so many great things to think about! Audrey also graced us with a lace class, including a lace cowl knit-a-long that seemed to be going great guns at camp and quite a few FO have popped up on Rav so it must have been a hit. We also had some great demonstrations and classes from our organisers and i did a bit of a show and tell class with shawls, so many wonderful shawls i'd never seen came out and people had such great questions, it was fun to be there and feel so many people sharing the love of shawls, my current obsession! i did a knitting trivia thing on the Saturday night but i don't know if that was such a success, but c'est la vie, just means i don't have to do it again next time!
just a few patterns for the shawl discussion, and a very small pile of shawls
i was nervous for a bit when i couldn't find them all, but there was a bit of dressing up happening!
duck pod, mum, dad and not-so-baby ducklings
when we first visited the venue they were brand new fluff balls so was great to see them all grown up
Our venue was the gorgeous, kitschy and amazing Tasma House in Daylesford. Complete with duck pond, tree covered archways, sweet little cabins and two kitchens, with a gorgeous meadow out the back, a barn with pot belly stove, multiple loungerooms and room to sleep approx 20 it was basically perfect. Our other venue was Halina House, offsite accomodation for our extra special campers, i didn't visit but i hear it was just as nice. the main house was also just a short walk from town, and the Mill Markets (junk, collectables, antiques, retro bits and pieces, books, second hand clothes, basically you name, it's there!), I wish i had visited the mill markets earlier in the weekend because by the time i got there i had well and truly overspent my 'buying useless stuff on holiday' budget!
home sweet home
the cabins at Tasma House
We were lucky enough to coincidentally schedule knit camp on the same weekend as the Daylesford Craft Weekend, total bonus! This sadly meant that i felt i had to spend some money in town, a real drag that was. Not. I got my grubby hands on some hand made bracelets, soap, hair clips, a project bag, YARN, a vintage looking 3 tier cake tin, and a bunch of other things that I love! The Makers Market was the standout for me, but i had a lot of fun with Kate waling around and checking out stores in town.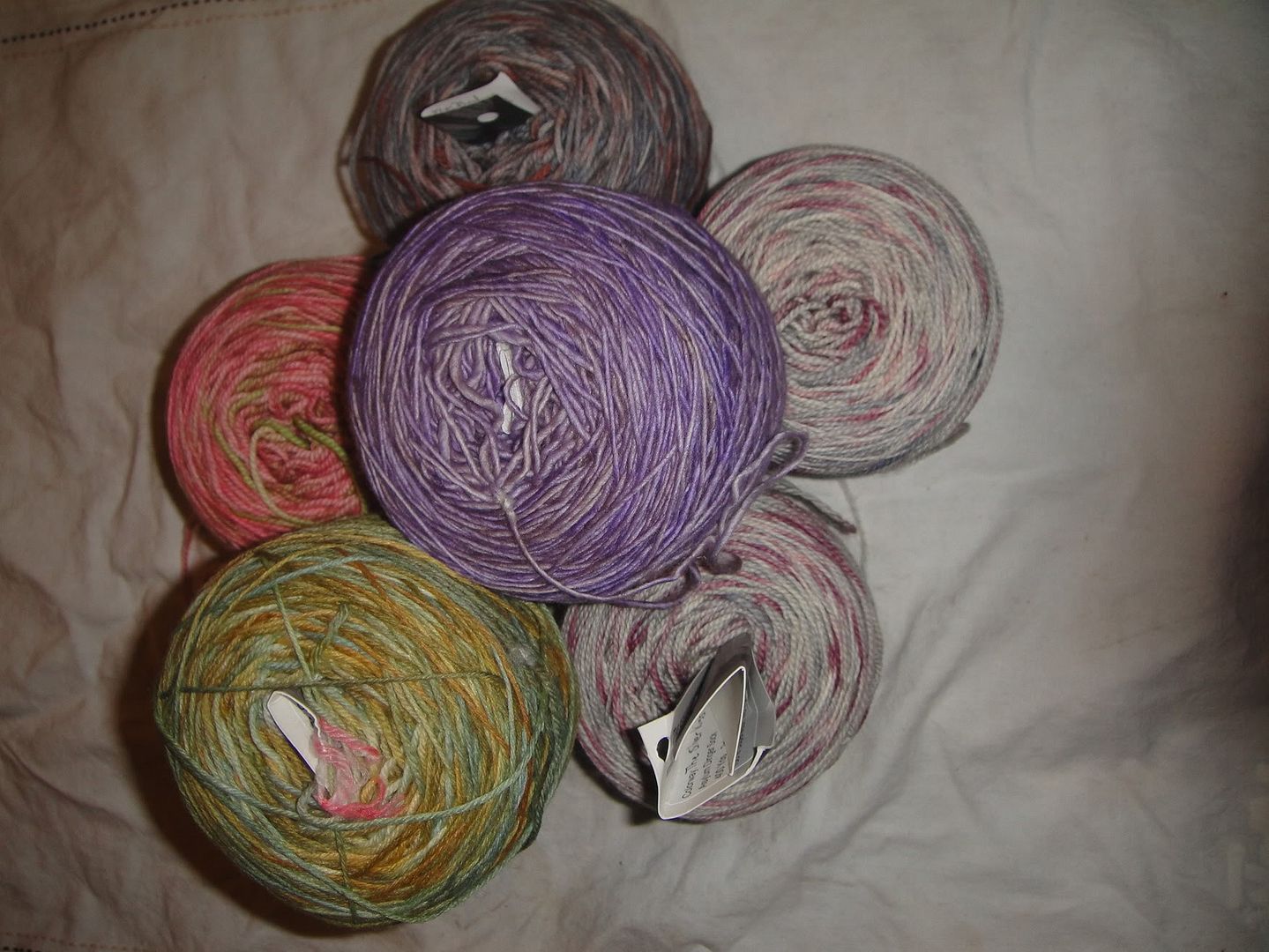 just a small sample of the skeins i made knittable at camp!
I spent a lot of time caking my skeins up, Kris ever so kindly let me use (and be completely uncoordinated with!) her swift and ball winder and i went to town with it! such fun! i really do need to get those two items, specially since i hand wind the most ridiculous looking balls of yarn. I had a bit of a knitting fail at camp, GAUGE LIES! started knitting a beautiful slouchy hat pattern in the recommended yarn weight, on the smaller of the recommended needles, got gauge, kept going, suddenly had the body of a not-so-small child's jumper! i could fint my entire head in it at the halfway point! it became a bit of a running joke that i was STILL not up to the decreases and it was HUGE. needless to say it is not a hat for me, but is now a super cute project bag, i've woven some ribbon through the increases where the ribbing meets the body and it's become useful. so i probably shouldn't call i a fail so much as an unexpected outcome!
The Skeleton Key Slouchie Tam/Bag
for size reference, that is 4/5ths of a skein of 100gm worsted weight yarn
Overall i have to say, i'd just have to say i had the best time, i met some people i'd only ever heard about or even only ever seen post on Ravelry and learnt a few things, ate till i couldn't eat no more, shopped and knitted my heart out. I loved it. Bring on Knit Camp 2012! thank you to everyone involved for making it a weekend i'll never forget.
the whole crew, such a wonderful bunch!
Photo by Jules